CTS-900
Solución en Imágenes B/N Premium, en un diseño compacto tipo Laptop, ultraliviano. Cargador 12v/220V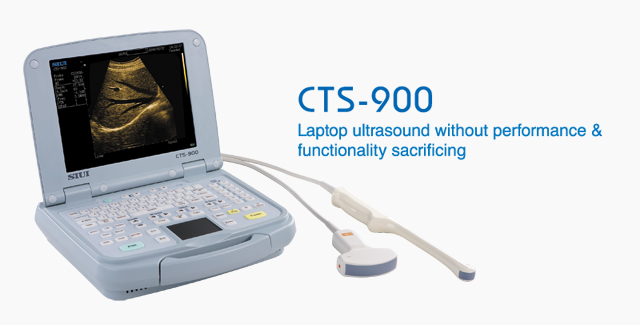 Diseño Laptop.
Monitor LCD de alta resolución de 10, 4 pulgadas.
6 controles de TGC.
Touchpad
Imágenes de alta calidad.
Transductores multifrecuencia de banda ancha.
Batería recargable.
Adaptador de CA.
Adaptador 12V para auto
Adaptador 220V para toma corriente
Cineloop
Puerto USB.
Comunicación de imágenes vía RS-232C
Distortion-free Live Zoom
Ensure the real time zoom imaging quality based on unique data processing technique
IP One-key Optimization
One key for eight groups of optimization parameter adjustment and each optimization group has up to 14 parameters for adjusting, easy to achieve optimized images.
Auto Free
Time can be set to freeze probes automatically, extending service life of probes effectivel
Flexible Storage Media Option
Storage Media: Hard disk, USB disk and DICOM
Storage Formats: BMP, JPG, AVI and CIN
Auto Creation of Document Report
Off-line Diagnostic Function
File and Edit of Patient Information
Wide Angle Convex Probe
Convex probe is featured with big angle. The angle can be adjusted when scanning,which is intuitive, easy to use and may reduce patient

Unique Firmware Upgrade
Advanced FPGA (Field Programmable Gate Array) platform to achieve high performance signal processing & flexible firmware upgrade. With one USB disk alone, the user can continuously, timely and conveniently access our latest research results in this regard, which include: improving image quality, supporting more probes, adding new features and so on.