CTS-7700V
Compacto B/N para estudios veterinarios de gran calidad de Imagen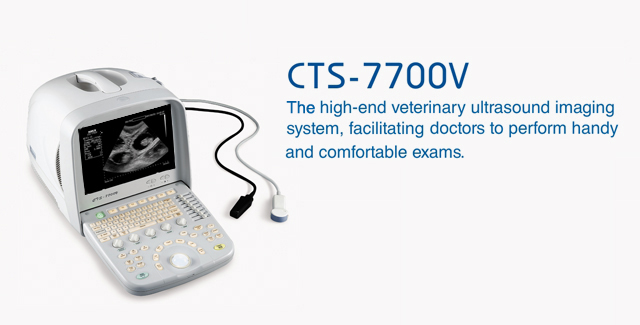 10.4-inch LCD monitor
Up to 512 frames B mode cine playback
PIP (Picture-in-Picture) function
Screen saver function
Probe auto freeze function
Unique high-definition zoom function
Speckle reduction technology
This application can deliver more clear-cut tissue edge and better shading. Tissue and structure with lesion can be identified easily.
Flexible storage media option
Storage Media: Hard disk, USB disk and DICOM.
Storage formats: BMP, JPG, AVI and CIN.
Ergomoic Settings
IP One-touch Optimization.
User-define function keys.
Smart tracking function.
Complete reproductive measurement software
Equine, bovine, ovine, canine, feline and primate.