Apogee 3500V
Imagenes de alta definicion para veterinaria en un equipo institucional.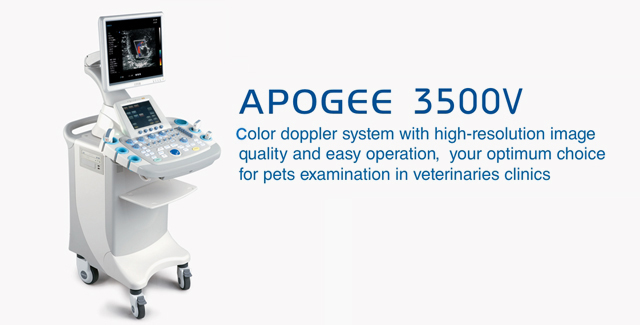 17-inch high-resolution LCD monitor
8.4-inch user-friendly touch screen
8-step TGC slidepots
Three active probe connectors
Continuous dynamic focusing
One Key Optimization
User-programmable keys for personal preference
Touch screen control: By operating the color touch screen, veterinaries can fully understand the current operation flow at a glance and achieve their exams quickly.

Thumbnail View: the thumbnails of the currently saved diagnostic images are retained at the bottom of the screen, which can be recalled for comparison and analysis any time.
High-frequency probes: The frequency up to 14 MHz can meet all the different applications.
Trapezoidal Imaging: The extended field view displays more image information without sacrificing image quality.
Advanced data management system.