Apogee 1100V
Ecografo Veterinario Doppler color portatil de alta definicion.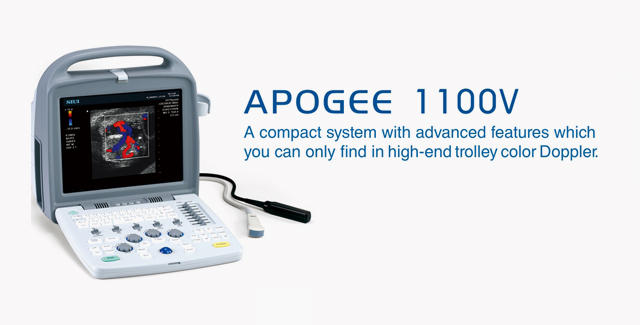 Features
12-inch LCD monitor
8-step TGC control
Continuous dynamic focusing
More than 2000 frames B mode cine playback
User-programmable keys for personal preference
USB disk and large-capacity hard disk for image storage
High-resolution LCD Monitor
Advanced Data Management System
Ergonomic-designed console

Various Exam Modes
The system has B, 2B, 4B, M, B+C, B+PW, B+C+PW, which can be applied in different applications.
Speckle Reduction Technology (SRT)
This application can deliver more clear-cut tissue edge and better shading. Tissue and structure with lesion can be identified easily.
Trapezoidal Imaging
The extended field view displays more image information without sacrificing image quality.
Complete Reproductive Software
Equine, bovine, ovine, canine, feline and primate.